-August 30, 2008: Wedding Day
-August 28, 2008: Mandatory Rehearsal Dinner/Tux pick-up
-June 01, 2008: Tux fitting deadline!
-March 22-25, 2007: New York Trip
-March 23, 2007: Engagement Night


Guestbook

Sign the Guestbook!


Contacts

Jose Araneta:
JoseVAraneta@yahoo.com
Ana Francisco:
xLadeeCudlzx@yahoo.com


Wedding Updates

April 02, 2008

Honeyfund.com Webpage:
Dear friends,

Our big day is approaching fast and we're getting excited to share it with you!

To make it easy for you to learn all about our wedding, we've created a web page at Honeyfund.com. You can find it by clicking the link below or visiting http://www.honeyfund.com and searching for us by name.

Oh, and if you have questions, please contact Ana Francisco through her email.

Many thanks--we can't wait to celebrate with you!

Love, Ana and Jose

Click: Here to visit our Honeyfund.com webpage.






March 22, 2008

Tux rental information:
Store: Mens Wearhouse Tux
Location: MW Tux at West Covina Mall is prefered (New Macys wing, first floor), but any Mens Wearhouse store is ok.
Group name: Francisco-Araneta
Group number: 1676466
Fitting Deadline: June 1, 2008
Pick-up Date: August 28, 2008



You can visit any Mens Wearhouse store, give the group name and number, and they should have you on the list. The style/color have already been arranged. So all you have to do is show up and get fitted =)

For those who will be fitting at a store out of state, you can request to pick up your tux at the West Covina location if you will be here by Aug 28th. The store number is: 2786. Just inform your local Mens Wearhouse of the plan.

Click here for Men's Wearhouse store locator!



Rehearsal dinner information
Location: St. Denis Church (2151 South Diamond Bar Boulevard, Diamond Bar, California 91765)
Time: 6:30pm SHARP!!!
**Rehearsal is MANDATORY for everyone in the wedding party**

January 17, 2008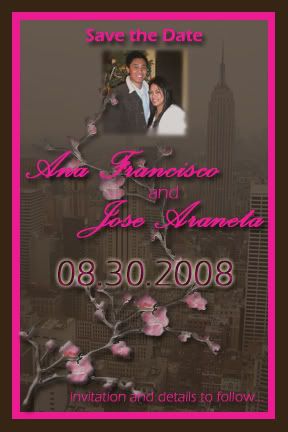 October 01, 2007
The locations and times of the wedding ceremony and the wedding reception are finalized. The arrangements have been made at the locations and times listed at the middle of the page.
August 18, 2007
The location of the wedding reception has been booked for the Westridge Golf Club in La Habra on Saturday, August 30, 2008 at 6:00PM. The wedding ceremony is tentatively scheduled for Saint Paul the Apostle Catholic Church in Chino Hills, possibly at 2:00PM.

May 06, 2007
A tentative wedding entourage has been posted at the bottom of the page.
March 28, 2007
Please feel free to recommend photographers, florist, and a good outdoor/garden venue for wedding ceremonies/receptions. We welcome all the help you can provide. Thanks!
You can view the photos from their New York Trip (March 22-25, 2007) at the Kodak Gallery
Also, Ana welcomes any recommendation/suggestion for the location of the wedding reception. Please leave your comments at the comment box or the guestbook to the left.
Thank you!
March 23, 2007

Jose Araneta proposed to Ana Francisco at the Rockefeller Observation Deck, New York City, New York.

Wedding Information

Ceremony:
Location: Saint Denis Catholic Community
2151 South Diamond Bar Boulevard, Diamond Bar, California 91765
Date and Time: Saturday, August 30, 2008, 12:00 PM


Reception:
Location: Westridge Golf Club

1400 South La Habra Hills Drive, La Habra, CA 90631
Date and Time: Saturday, August 30, 2008, 5:00 PM (Hors d'œuvres), 6:00PM (Dinner)

Wedding Entourage

Maids of Honor: Unica San Antonio and Janina Carla Araneta

Best Men: Roderick Conwi and John Paul Capulong


Principal Sponsors

Dr. Lucilene Tolentino
Cesar Reyes
Celso A. Alejandro
Jesus A. San Gabriel
Joven Mapa
Dinah L. Santos
Roland F. Francisco
Editha M. Francisco
Cesar Nuque (Proxy)
Deilah R. Angeles
Marissa Santos
Dantes F. Francisco, Jr.

Dr. Deogracias Peņa
Rosario Salamanca
Ria Rojas-Ojeda
Melinda Capulong
Nancy San Antonio
Romulo Perdon
Gloria Subillaga
Rodolfo Conwi
Paulette Infante
Robert Andres
Jose Araneta Jr.
Myrna Dumibay

Secondary Sponsors

Bella I. Picones
Mary Rose N. Francisco
Cynthia F. Chu
Marita F. Santos

Enrique Capulong
Sam Reyes
Allan R. Araneta
Voltaire Buencamino

Bride's Maids
Groom's Men

Melissa Francisco-Walker
Maribel Marella
Pricilla Wiraatmadja
Charisse Fajardo
Jesylee San Gabriel
Rachelle Alejandro
Arlene Lebrilla
Sheryl Sagucio
Nicolette Salamanca
Keshia Francisco
Ezra Kaye Francisco

Ralph J. Andres
Juan Miguel F. Caldera
Hardie Francisco II
Luis Tolentino II
Chris Ligan
Richard Tovar
Juan Paolo F. Caldera
Daryl Bettiranta
Juan Raphael F. Caldera
Marvin J. Andres
Reņir Inguito

Junior Bride's Maids
Junior Groom's Men

Kathryn Francisco
Breanne Francisco
Kimberly Andres

Aser Santos, Jr.
Jordan Buencamino
Gerard Peņa

Flower Girls

Jana Reyes
Julia Andres
Kaylee Rose Marella
Ring Bearer: Mark Angelo San Antonio

Coin Bearer: DeShawn Francisco-Walker

Bible Bearer: John E. Reyes


Kai: It Might Be You

Edited by JR.Caldera