NORA TRAVIS --HAVILAND CHINA REPLACEMENTS
Did you inherit a wonderful old set of Haviland china and find that you are missing pieces?
You have come to the right place. I have over 30,000 pieces of French and American Haviland china available. My prices are very competitive. To identify your pattern, just make a color photocopy of a small plate, front and back, and mail it to me or send a digital photo via e-mail. If I don't have it in stock, I will try to find it for you. There is no charge for pattern identification or search services.
Please visit my online mall shop at www.goantiques.com. Just click on the link at the bottom of this page. I have over 500 items for sale at any one time. If you see your pattern there, contact me as I may have more of that pattern in stock.
I also do wedding registries for the young bride who wants to create a beautiful table with something of beauty and history.
Full sets available
Mixing and matching place settings is also in vogue at the moment and is a fun way to set a table.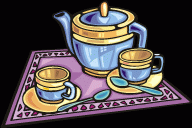 Would you like to know more about Haviland China? The two books below have all the information you want.
"EVOLUTION OF HAVILAND CHINA DESIGN" shows and tells the transition of designs from the early Japanese influence and multiflorals into the Art Nouveau and Art Deco styles, from the years 1850 through 1970. With 567 color photos it shows many patterns and shapes of Haviland. Backmarks and price guide also. For a personally autographed copy, please send $49.95 plus $2.95 shipping to address below.
"HAVILAND CHINA-THE AGE OF ELEGANCE" contains over 400 color photographs and details the history of the Haviland family, how Haviland was made and the last third of the book shows what pieces were used for breakfast, lunch, afternoon tea and 15 courses of dinner. It is in its third revised printing with updated price guide. You may order a personally autographed copy by sending $39.95 plus $2.95 shipping to the address below. California residents please add 8.75% sales tax.
Visit my new shop on the main floor near the back of the Orange Circle Antique Mall, 118 S. Glassell, in the city of Orange, California. This is the largest supply of Haviland china in Southern California. The mall hours are 10am to 6pm daily. For those that inquire, I usually am not there except to restock. If you have questions regarding your pattern, please call or e-mail me.

I will be displaying my Haviland China in 2014 at the Pasadena Bustamante Antique Show, Palos Verdes, Santa Barbara and Haviland Conference Show & Sale in Burlingame, CA and the Calendar Show in Del Mar.
My show schedule for 2014
January 24-26, the C.A.L.M. Antiques & Vintage Show, Earl Warren Showgrounds, Santa Barbara, CA.
March 7-9, Bustamante Show, Pasadena Center, 300 E Green St, Pasadena, CA
, May 29-31, St. Francis Episcopal church, Palos Verdes, CA.
June 15, Haviland Collectors conference, Embassy Suites, Rosemont, IL
November 14-16,Calendar Antique Show, Del Mar Racetrack, Del Mar, CA
If you are in the area and interested in attending any of the shows, please click on the link listed below for either show and you will be able to get directions and print out a discount coupon for entrance to the show. I look forward to meeting you.

You may write to me at 13337 South St., #161, Cerritos, CA 90703. Please include a self addressed stamped envelope or an e-mail address for a reply. Or call me at (714)521-9283. To contact me by e-mail, please click on the link at bottom of page.
Some special sites for Haviland.
Visit my online store
Haviland China Resources
Get a discount pass for the Pasadena show
Get a discount pass for the Calendar shows
Get a discount pass for the Palos Verdes Show
Locate dinnerware, glassware & silverware
Learn about Haviland Collectors Internationale

Email: travishrs@aol.com