.
HomePort
Ayre@HomePort

.

HomePort

is pleased to provide information related to the Ayre family of St. John's, Newfoundland which traces its ancestry to Sarah Badcock and John Ayre, a joiner (builder) of Exeter, Devon, UK.

The couple married in Exeter, in 1812 and had eight children, with three of their girls dying young. John himself died in 1824 when the five remaining children were aged 3 to 15.

During the mid-1800's six of John and Sarah's children and grandchildren individually emigrated from England to Newfoundland, establishing the family in St. John's. This included one daughter, a son and four granddaughters. Family traditions tell of young women who came out to Newfoundland to visit relatives, or in the case of Annie Ayre

(1853-1935)

, to work in the household of her wealthy Aunt Amelia Steer. Eligible young women often met young men and married, establishing another branch to the growing St. John's family.

The original Ayres who migrated from England to Newfoundland were:


Hon. Charles Robert Ayre

(1819-1889), married Hannah Mary Bray (c.1821-1911) - (7 children)
His sister

Amelia Ayre

(1825-1912), married John Steer (1824-1918) - (5 children)
Their nieces:
Rose Emma Cole (1839-1919), on New Year's day 1863 she married John Edgar P. Peters (1839-1919) - (11 children)

Sarah Jane Cole

(1847-1925), married Alexander Robertson (1854-1932) - (6 children)

Catherine Cole

(1849-1922), remained single.


Annie Ayre

(1853-1935), married Edwin John Knight (1848-1927) - (4 children)
The Exeter area family had moved to Birmingham, England beginning in the 1850's with John and Sarah's son John Jr. establishing his young family there. In the 1870's prior to 1874, another migration was begun from England to Toronto, Ontario. This included two of Hon. Charles Robert Ayre's nephews (sons of his brother John Ayre Jr.) who relocated there with their wives and children. They were:


Charles Ayre

(born c.1845) married Mary Ann ------- in 1869 - (4 children)

John Ayre

(born c. 1843) married in 1866, Mary A. Beevers - (5 children)
A third migration in 1884 began in another direction, this time to Australia:


George John Coles

(1840-1916) had 7 children with his first wife Elizabeth Emma Fraser. Elizabeth died in 1880 and George married in 1884, Josephine Augusta Norris. They set sail almost immediately on the

Duke of Argyll

to Brisbane, settling permanently in Ipswich, Queensland.


In Newfoundland, Charles Robert Ayre originally worked in Benjamin Bowring & Sons, learning the merchants trade, until he was able to establish Ayre & Steer in 1859 with his brother-in-law, John Steer. In 1884, Arye & Sons was incorporated with three sons in the firm: Hon. John Bray Ayre, Frederick William Ayre and Hon. Robert Chesley Ayre. In 1889, a fourth son, Hon. Charles Pascoe Ayre became a partner.
In 1916, the Ayre name sadly appeared in headlines when the world, reeling from the devastation of WW I, learned that a family in St. John's Newfoundland had lost four boys in battle, all grandsons of the late Charles Robert Ayre. In a wall of machine gun fire, at Beaumont Hamel on July 1, 1916, the four young officers paid the ultimate sacrifice. While the Ayre family suffered a great loss, the grief of one family was only a microcosm of the grief of all Newfoundlanders. Of the 801 members of the Newfoundland Regiment who had gone into battle that day, only 68 were able to respond at roll call the following morning. Families and communities in Newfoundland felt the impact and to this day July 1, 1916 and the heroic sacrifices of the Royal Newfoundland Regiment are remembered on Memorial Day which now coincides with Canada Day on July 1st.

Newfoundlanders, despite having the greatest loss for any regiment, were only a tiny portion of these grieving losses as the battle saw 100,000 Allied troops go into battle on a day when there were 57,470 casualties, 19,240 of them fatal. While the name Beaumont Hamel resounds for all Newfoundlanders, most Canadians remember the battle as part of the larger campaign to capture the River Somme. The larger Somme campaign eventually claimed 620,000 Allied casualties. Ironically the name of the river comes from a Celtic word meaning tranquility.

The Canadian Virtual War Memorial and Newfoundland and the First World War, help to commemorate the memory of those who paid the supreme sacrifice, including the four Ayre cousins:


Captain Eric Stanley Ayre, age 27, son of Robert Chesley Ayre and Lydia Gertrude (Pitts) Ayre, of St. John's. Husband of Janet Morrison Ayre, of St. John's, Newfoundland.
---
Captain Bernard Pitts Ayre, age 24, son of Robert Chesley Ayre and Lydia Gertrude (Pitts) Ayre, of St. John's. Brother of Eric, he was educated at Methodist College (St. John's) and Leys School, Cambridge. He took an Honours degree in Medicine at Jesus College, Cambridge University.
---
---
---
People have reflected on the loss of so many young men from one small community. Some have suggested that WW I was for Newfoundland, what Vietnam was for the American nation, a coming of age and a loss of innocence at the same time. It is clear that Beaumont Hamel was a defining point for Newfoundland when as a player on the world stage, Newfoundlanders stood tall, and also learned the price of freedom. Their service has not been forgotten.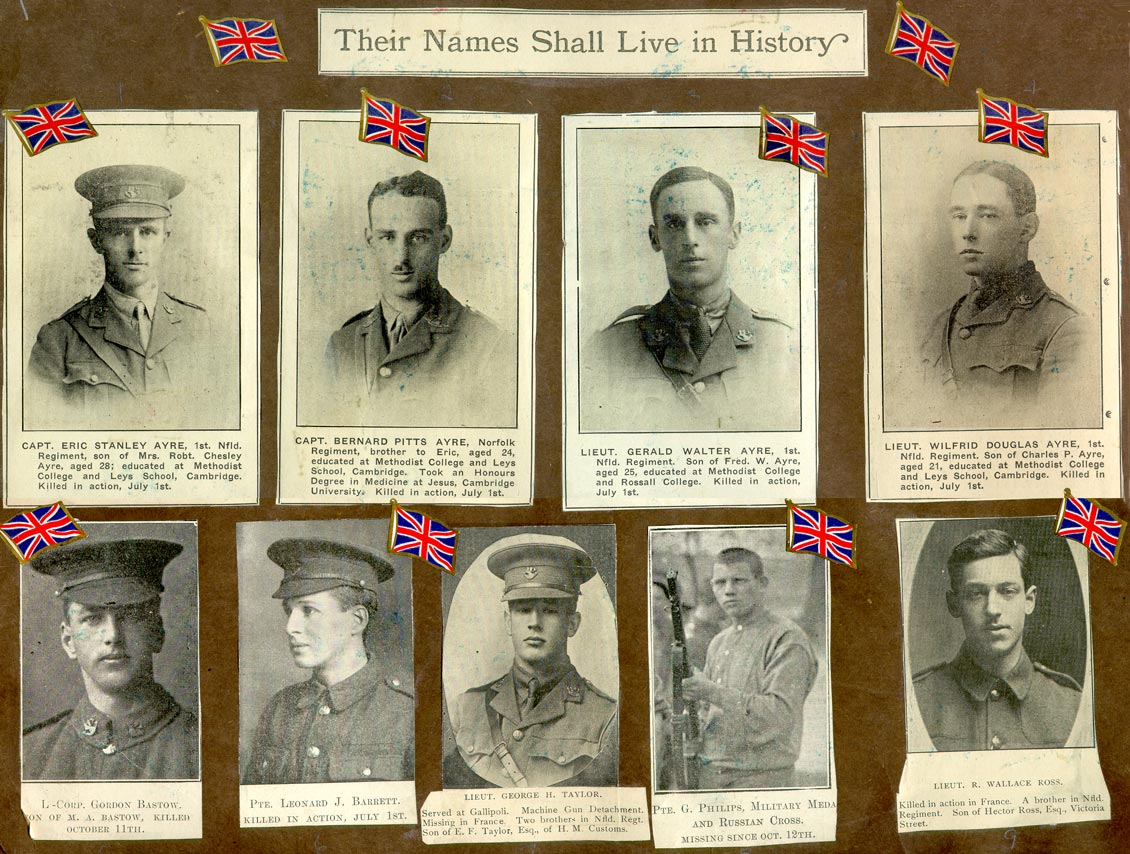 ---
Do you have information that could be helpful in correcting or adding to the contents of HomePort ? We appreciate your comments, suggestions and additions. We also appreciate making contact with other descendants and researchers involved with family history research.
---