The Beginning - 1994
Beltane was founded in 1994 by Xanataph initially as a solo Black Metal project that recorded a song called 'Into The Night' on an Amstrad 4-Trk & then evolved into a 3 piece band late '94 with Xan on gat/vox, Dyrkyn on drums/vox & Thyiendalen on bass/vox.


1995
This lineup recorded a rehearsal demo simply titled 'Rehearsal April 1995' which has since become a classic in NZ underground tape trading circles. It also played one show in Nelson.


1996
1996 Amoniath stood in on drums & 2 tracks were recorded. These were the earliest recorded version ov 'Autumn Craft' & a re-recording ov 'Into The Night'. These recordings are very rare now indeed. Xan also recorded a solo track, 'Southern Pagans'. This is another rare beast.


1997
Xan, Dyrkyn & Thyiendalen got together again for rehearsals & songwriting throughout this year. A concept that Xan had, to have outdoor rehearsals up in the hills & forests ov Nelson came to fruition & was eagerly embraced by Thyiendalen & Dyrk. Recording was not a major focus ov these openaire sessions, but some were, although none ov this material has been released.

Thyiendalen became less interested in being in Nelson, so his involvement declined towards the end ov the year.


1998
In 1998 things resumed with Dyrkyn on drums & Xan on gat mainly operating as a two piece. Recording a MCD was commenced & Beltane played the 1998 Nelsonian Black Metal Sabbat with Benatari sessioning on bass.


1999
'MCMXCIX' was released in September 1999 with the original 3 piece lineup together again on 2 ov the tracks as well as opening for Impaled Nazarene & playing Satanfest 99.


2000
A track by Xan, essentially a guitar solo, was recorded. This was called 'Rememberance at Twilight' - a very atmospheric piece ov lead gat playing! A techno/industrial remix ov 'A Choir Invisible' was produced.


2001
A few jams with Xan & Dyrkyn was all that happened this year.


2002
**broken blade**


2003
The recording of the song 'Chains' occured near & on the Winter Solstice. This is Beltane's rarest recording & can be thought ov as an early prototype ov the Seasonal concept.


Xan reactivated Beltane as a live concern September 2003 enlisting Kvathairein on bass & using electronic backings largely made ov Dyrkyn's drum tracks. A small South Island tour was completed as well as playing the Darkness Gathering 03.


2004
2004 was consumed bringing a keyboardist, Narah, into the lineup and although only one show was played in the year, many outdoor songwriting/rehearsal sessions occured. Lots ov new material was created this year mainly due to the use ov the newly formed 'Quick Track' concept, the details ov which are only known in close circles.


A live recording was made in the Maitai Valley on the Summer Solstice. This was to be the first of Beltane's exclusive Seasonal Releases. & simply entitled 'Summer Solstice live 04'


2005
2005 More gigs were played in Nelson, the second Seasonal Release 'Equinox Upon Fairfield' was recorded at Fairfield Cemetary on the Autumn Equinox, the third 'WSOV' on the Winter Solstice deep in the heart ov the Maitai, the fourth 'The Brook Project - VE 05' on the Sprinq Equinox in the Brook Valley.

A fortnight before the Summer Solstice 2005 Dyrkyn returned from overseas and an impromptu jam was arranged several old songs were recorded in a rehearsal style fashion & two of these made it onto the fifth release 'Midnight on the Glen - Summer Solstice 05' along with three new tracks recorded at Glenduan on the late eve/early day ov the Summer Solstice ov course!


2006
2006 Initially saw the departure of Narah & it was considered better to get a drummer once more than to look for another keyboardist. Mystian was briefly tried as a potential drummer but once it was learned that Dyrkyn wanted to properly rejoin in late Feb, that was the only way foward for Beltane.

Autumn's recording was done in the 'old pirate shed' where Xan & Kvath had been rehearsing for the past two years, but it's time was up so this recording was the last thing done there before the place was razed.

In April a second guitar player was added, Noslohcin who was played in bands with both Xan and Dyrk over the years.

Live shows happened in Nelson & Wellington in May with this new fourpiece lineup & the sixth Seasonal Release 'Autumn Craft 2006' was released at the Wellington show.

Xan & Kvath represented Beltane in Wellington on 06/06/06 as a two piece 'soundsystem' version ov Beltane when the others had work commitments.

Beltane's seventh Seasonal Release 'Solstice's Altar Returns - Winter6' was released on August 19th.

More shows in Nelson in August & September.

This years Spring recording was begun on the Spring Equinox Eve & Vocals recorded at Waiuta on Equinox day just after the actual time.

The 'High Spring Tour' saw Beltane play Nelson on Oct 28 (a very auspicious date), Christchurch on 3 Nov (a fantastic show) & Dunedin on 4 Nov.

The eighth Seasonal Release 'Her Spring Eyes: VI' was released on December 22nd & features artwork & photography by Gothique Noir.

The Summer Release was begun on the Summer Solstice & will be a Video Release! Work is progressing well on this release.

Beltane appeared live on Dec 24 in Nelson with Xan on gat/vox, Amoniath on drums & Nos on bass.

Following this, in Wellington on 28 Dec as a two piece lineup (Classik Blackmetal!! heh), Xan on gat/vox & Amoniath on drums.






2007


JAN/FEB

Beltane has reclocated it's operations to Palmeston North, so expect many more shows to happen in the North Island ov NZ this year!

We would like to introduce Baphgirl as our new Bass Player. She replaces Kvath.

Baphgirl's first gig with Beltane was at Yaza Cafe on the 17th ov Feb. This was also the last gig as a Nelson based band.

Work continues on the Summer Solstice vid, however due to the disruptions ov relocation it's unlikely that this will be completed in it's entirety before the coming Equinox. However, we will endevour to have a track from it, most likely 'Emily' completed before then & up on myspace.

It is now finally possible to purchase Beltane's C.D. Releases with a credit card. Look to the left. However it is still possible to obtain them in the classic underground way! [i.e. posting well-hidden cash] information about this can be found by clicking a CD cover as well.

MARCH

The Summer Solstice release is progressing very well. The video for the song 'Emily' is nearly completed & will be available on Myspace & YouTube for download before the (southern) Autumnal Equinox on March 21st.

This is a new version ov 'Emily' & features the gothic model Visceral who also graced the front cover ov 'Her Spring Eyes: VI' in the video.

We are debating whether to include either the audio ov the new version ov 'Emily' on the Myspace Tracks or the Audio ov another song that will be on the SS06 video release.

March 21st - THE VIDEO OV "EMILY" IS NOW UP ON HERE

We have commenced recording the Autumn Equinox Release with main trax being completed at the Terrace End Cem on the Eve ov Equinox.

APRIL

In Nelson we shot some additional footage for "Seasons" at the Queens Gradens & at Cable Bay. We also had a jam with Ashyr on drums in the Asphyx Chamber that has yielded some interesting drum loops & possibly something much more. He also did camera op for us during this shoot.

We have decided to do something different with last year's (Dec) Summer Solstice & this year's Autumnal Equinox recordings. We abandoned the idea ov doing a video release for the remainder ov the Summer Solstice songs (for now) & are combining them with the Autumn songs to form a full length Album that will encompass both these seasons. The video release ov these 5 songs "Emily" (which is already complete & up here!), "Seasons", "Semetary Daze", "King Ov Hell", "Aij/AS" will be worked upon during the year.

Aradia Rosa Wolfe recorded some awesome vocal parts on "Seasons" some ov which were self recorded, some by us during a cool weekend at her place. See her page under Occultus Mystica on our top friends!

MAY

The final instrumental parts for "End Ov Summer" were recorded on the Samhain at "Pat's House", a rather unusual feature ov the Kelvin Grove cemetery in Palmeston North at sunset...& only a little before the security guard arrived to lock the place up!!!

The SS06/AEO7 Album is progressing well, we're still deciding on a proper name for it. Baphgirl has recorded the bass part on "Seasons" now so there's only a few parts left to record & then mastering will commence.

JUNE

The Album is called 'JERA <>'. We think this is most appropriate & no further explanation is necessary for those familiar with the Runic system. The tracklist is as follows :-

01 Golden Dawn
02 Aij/AS
03 Seasons
04 E.O.S
05 King Ov Hell
06 Emily
07 Semetary Daze
08 666 Anno Sathanas
09 Countess Baphory

"Seasons" has been uploaded to Myspace.

JUNE 21 Solstice Eve- On the longest night four brand new tracks have been recorded.

JUNE 22 Solstice Day - JERA IS NOW OFFICIALLY RELEASED!! Our gig in Palmeston on the 30th is also the release party. CD will be available on the night at reduced price, after this at local outlets to be announced. Mail order/paypal is already available ov course.

The final version ov 'Seasons' & now '666 Anno Sathannas' from JERA <> have been uploaded here.

JULY

This month has been a bit ov a break from the hectic period we had finishing off JERA & recording this year's Winter Solstice Seasonal Recording (WSVII).

We have also been busy organising August's 'Imbolc' Tour.

AUGUST

It's been full-on this month with the most amount ov shows in one month that Beltane has ever played. This tour went very well with the Wellington show being the highlight. There are some pics from this up on the photo section on this page.

Lyrics have been written & recorded for two tracks ov the WSVII recording. These songs are called 'Some Say Satanists' & 'Skerryvore'.

SEPTEMBER

Work has continued on the WSVII recording as well as preperation for this year's Vernal/Spring Equinox Seasonal Recording (VE07).

SEPTEMBER 23 Equinox Day - Four songs were recorded at 'Le Nest' for VE07. Three were recorded in the evening just before the time ov Equinox & another one was done just after the time [& a session!! ;) ].

OCTOBER

Work has continued on the new album, we have decided it's going to be entitled 'JERA <2>'. This is because between it & JERA these albums represent a holistic & contigious year ov Beltane's work, probably the year with the most changes. Very interesting & necessary listening!!!

NOVEMBER

NOVEMBER 8th High Spring(Beltane) Day - We recorded a cover ov The Electric Hellfire Club's song 'Incubus'. This is a fuckin cool version & will appear on JERA <2>.

Aradia Rosa Wolfe has completed lyrics & vocals on another track for the new album. The main guitar & bass parts were recorded on the Winter Solstice.

Now we are back into the loop ov organising shows once again. Keep checking for updates. We have also now made it possible for you to sell our C.D.s for us on your Myspace or website for an excellent commission. Message if you are interested.

DECEMBER

Our NEW ALBUM JERA <2> is very close to completion, we are just in the final stage ov mastering & artwork production now!

Here is the tracklisting:-

Dark Night '94 (Intro)
Now Is The Essence
Questions Invoking Victory
Incubus
High Spring Moon
Skerryvore
Some Say Satanists
New Age Ov Satan
Requiem in E (b Phrygian)
Necromantic
Vikaroth

The official release date is December 20th (<2> days before the Summer Solstice). We will be placing two tracks up here around this date!

Dec 20: Here we are, Requiem in E & Necromantik from Jera <2> have been added!

DECEMBER 22nd Summer Solstice Day We have recorded four new tracks out on the Foxton Beach Sandbar - right at the hightide!!! We were lucky not to have been washed away! We did 2 takes out there then retreated to the Green Slipper - still out on the Sandbar - as night was falling for a third, more inebriated take!







2008





JANUARY


This month was spent working on the Summer Solstice recordings, preparing a for recording at Lughnasa & organising shows.


FEBRUARY


The 1st & 2nd were spent in the South Island, playing Chch & Dunedin respectively. Both these shows were excellent, the Dunedin one being exceptionally so! (Thanx Danny & Marcus!). While we were in Chch we got measured up by Tracey ov Iriscostume for some spunky PVC etc outfits..we is gonna be fetish models! haha


Played Wellington on Valentine's Day... No love lost there! hehe... That's what you get for playing a thursaday! Met some cool people though, in the form ov Mez & Kerrian...Mez took some photos ov us too, we hope to bring them to you soon!


FEBURARY 5 During the Celtic day ov Lughnasa We went into a forest at the Wairoa Forks in Nelson to record a cover ov....A FOREST!


This will appear on the new Summer Solstice seasonal release now known as "Cape D'Evil"


MARCH


Have uploaded some pics ov us in Chch & Dunedin..check them out in the photoalbum.


Work is progressing well on Cape D'Evil (SS07). The mastering is complete. The artwork is in it's final stages. There will be a track uploaded to here before the Autumn Equinox.



MARCH 18 - CAPE D'EVIL - SS07 (MCD) IS NOW AVAILABLE!!

Tracklisting is:-

01. The Alchemist (download it here!)

02. The Compleat Witch

03. Wreckquiem: Cape D'Evil

04. Euphoric Plunder in Darkness

05. A Forest


Also on this CD as bonus CD-Rom content is the compleat Rehearsal at Irongate 3rd & 5th ov April 2004 This has never been previously been released. So you effectively get two CD's for the price ov one!!!



SINCE MARCH


For one reason or another we just haven't been able to find the time to update this. Probably due to our being busy with shows, recordings & Vikaroth. (& also due to lack ov decent internet access)


Since last update we have recorded four originals on the Autumn Equinox, one cover on the Samhain, four originals on the Winter Solstice & will be recording another cover on Imbolc (which is coming up real soon!). These tracks will be our next release which will be another full-length album.



Will update this properly with more detail at a later date.



SEPTEMBER


September was spent mainly finishing off current album '...Through Darker Seasons' it features 10 tracks, which comprise ov seven new originals, one old original & two covers. The track list is as follows:-

Sentinel ov Death (AE08)

Call the Ships to Port (Samhain 2008)

Winter Forest (WSVIII)

Satanic Reawakening MMVI (AE08)

North Sun (WSVIII)

Isle ov Avalon (AE08)

Eilean Mor (WSVIII)

Christlich du Essen (WSVIII)

Baby Gotterdamerung (Imbolc 2008)

The Adversary (AE08)


The album was released on September the 19th & is exclusively available from here, our website & certain selected outlets listed in our blog about that subject. It's easily our best release & if you thought any ov our previous releases were alright then you'll totally like this one!



If you're wondering what the codes in the brackets are, they are references as to when which seasonal date that song was recorded on. So all tracks with AE08 were recorded on the (southern)Autumnal Equinox 2008 & tracks with WSVIII were recorded on the (southern)Winter Solstice 2008.



SEPTEMBER 22nd - Vernal Equinox Eve We recorded three new tracks beside the little 'Lighthouse ov Seabury'. Currently they have no names, but one is a strong collaboration with our previous bassist, Kvathairein whom we are in continued pleasent contact with. Another track features some Dyrkyn beats that he has rearranged.


OCTOBER


Things have been somewhat interupted this month for the dawn ov a creation ov a different kind: Our second wee daemon spawn entered the world in a rampant rush on the morning ov October 3rd. We spent the next seven hours after that abusing our brains with NOS. (and we don't mean our former guitarist Noslohcin!!)




NOVEMBER


NOVEMBER 7th - High Spring (The Beltane) It has become a tradition with us since the High Spring ov 2007 when we recorded a cover ov the Electric Helfire Club's 'Incubus' to record a cover on the alternate Pagan Days (i.e Beltane, Lughnasa, Samhain & Imbolc). However this time we have actually recorded three & they are all by other bands called Beltane.



Imagine that! Beltane doing songs by Beltanes on the BELTANE! heh! After checking out the multiple bands using this name on the net we decided on songs by the Swedish, Australian & Brazilian Beltanes. They were recorded over the day ov the Beltane at Seabury Nest.



These tracks together with the three originals recorded on the Equinox will be available sometime in December either as a six track MCD or possibly a 7"/CD combo. Although we may wait until the Summer Solstice recordings to do the 7", depends how things pan out.



Currently we're hard at work on finalizing these songs and that will take care ov the rest ov November. Oh & we've finally uploaded the Emily video to YouTube. The link is above.



DECEMBER


DECEMBER 19th - Our 13th Seasonal Release 'Shadowplay Desolate' was released. The tracklist is:-


A Cornish Tale

Lt's Last Solstice

Trebuchets & X-Bows

Fly To Thee

Eve Ov The Conquering

The Ritual Has Begun


This marks the end ov YEAR IV ov our Seasonal Release programme & 16 recordings on Cardinal Pagan Days. Why only 13 releases from 16 recordings? Because three ov those releases are full length albums which encompass two adjacent recordings brought together on one release.



DECEMBER 21st - Summer Solstice Day Four brand new original tracks were recorded at Nash Palace. This is the beginning ov Year V.




2009


JANUARY

This month was spent working on our SS08 recordings, our myspace & aquiring new collaborators which you will see the results ov in coming times.

C.D. Sales are increasing which is fantastic! :)


FEBRUARY

FEBRUARY 4th - Lughnasa Today we will record a cover ov Dimmu Borgir's 'Puritania', something we've been planning on doing for a while. It will be part ov the SS08 release.

Here's a picture we've just taken ov all our Seasonal Releases from the (southern) Summer Solstice ov 2004 till now.





MARCH

MARCH 18th - Today we have released our 14th CD 'Summer ov Skoth'. Tracklist is as follows :-

01 Free Forest I
02 Amon
03 Legacy ov Disorder
04 Puritania
05 By The Next Moon

It features contributions from the French avantgarde opera singer Die Julie on track 01, longtime collaborator Aradia Rosa Wolfe (vocalist) on track 05 & our first overseas guitarist Art Kalenda, track 03. It has been enjoyable working with these artists & has given this release added depth. We will be posting a 'Contributors Gallery' soon.

Work never stops for Beltane: We're now preparing for our (southern) Autumnal Equinox recording. It will be done on the 20th which is the Eve. This one has a certain degree ov specialness to it. We will be re-recording Beltane's underground classic "MCMXCIX" (1999) miniCD. This will be done outdoors in an awesome Cemetery in the Manawatu region ov New Zealand.

MARCH 20th - Autumnal Equinox Eve On this evening three songs were recorded in the Manawatu Gorge Cemetery. "Evoking Wraiths ov Fire & Steel", "A Choir Invisible" & "2015 S.P.I.K.Y". This marks the 10 year anniversary ov the original release! You can read more about it in our blog section.

APRIL

We have finally got some T-Shirts (and a couple ov other products as well) available to purchase! Have a look at the Widget beneath the CDs on the left. To be honest, they're a bit pricey because they are through an online company but if you've been wanting a Beltane shirt now's your chance! :) Note: All the mechandise available from this widget is in U.S. dollars! However our CD's are in N.Z. dollars, so don't get confused. The CDs are really good value as the N.Z. dollar is only worth a little over half the U.S. presently.

Actually while we're on this subject, if you would like to purchase our entire CD catalogue (or not all, but a large number) send us a message & will give you a special price in one bill. You'll also get a free gift too, if you order the compleat catalogue.

Here's a link Mark Dubanowski, one ov our drum contributors sent.
http://www.northhighland.ac.uk/newsitem.aspx?newsid=151
It's an article on his drum contribution to our current project from his perspective.


MAY

We played our first live show in 8 months on the 2nd ov May at the Palladium Bar in Hamilton. This turned out to be a really fun, stress-free show. We'll definitely be returning to Hamilton, probably in September.

MAY 5th - Samhain We made a brief return to Beltane's old haunt in Nelson, The Asphyx Chamber. There we recorded a cover ov Motorhead's "Orgasmatron" as a joint project with Nelson band INVECTIVE. It will be bonus material on our forthcoming MCD.

On May 9th we played a show at Nelson's famous Phat Club. It was great to hang out with the old scene again, a very fun night!

It has been very busy for us while in Nelson, another thing we did was an interview & were filmed playing "Lt's Last Solstice" live in the Aniseed Valley for a local Music Documentary that's being made.

Also while we were still in Nelson we recorded our first acoustic jam in over 10 years, for the bridge section ov "A Choir Invisible" on the forthcoming release. This was done in the exact same place in the Brook Valley where once Xan & Dyrkyn came to record this section for the original (1999) version ov the song.

Finally, we recorded a new version ov the Invocation for the song "Evoking Wraiths ov Fire & Steel", once again returning to the location where the original version was recorded nearly 11 years ago, the Cable Bay Sea Caves. This was particularly special as Lt Dude was with us & took part in the Invocation.

While all this was going on we even managed to work on our record label, SATANICA a bit. Check it out at http://www.myspace.com/xatanica

That was certainly May taken care ov! :)

JUNE

JUNE 19th - Today our 15th Seasonal CD 'Autumn MMIX' has been released!
The tracks are:-

01 A Choir Invisible
02 2015 S.P.I.K.Y
03 Evoking (Wraiths ov Fire & Steel)
***CD ROM CONTENT***
04 Orgasmatron (With Invective)
05 My Dark Seraphim (Sharman Phair Remix)
AE09 Uber Black Metal Masters
Live at the Valve, Wellington, New Zealand 6/6/6

This release is available from our Myspace/Website as usual but it's also available from Satanica Productions and more labels/distros to be announced!

JUNE 20th & 21st - Winter Solstice Eve & Day We recorded the WSIX tracks at Castlepoint. Four brand new songs were tracked. It was a real cool & fun experience. We recorded some takes on the Eve in the comfort ov the suite we stayed in while the Lighthouse there made eerie pattens ov light through the mists ov the storm that was raging.

The next morning, on the day ov Solstice the storm had abated so we managed to actually make it up to the Lighthouse itself for a very windswept take ov the tracks! Later that day, the shower unit in the suite will never be the same again! hehe ;)

JULY

The main Beltane activities this month have been concerned with working on our Arkenstone (Portugal) & Beltane Split-CD. This will also be Satanica's first official "in-house" release.

Speaking ov Satanica, we are increasing becoming very busy with that & there are some fine releases available though it. So go & buy some! :)

AUGUST

AUGUST 7th - Imbolc As usual on the Cross Quarter days we have recorded a coversong, this time it's by the mighty Beherit! Actually it's not one song, but two that will be made one song. We're keeping the song title to ourselves at present!

The main guitar & bass parts were recorded on this day at a small cemetary just outside the little rural village ov Rongotea, in the North Island ov New Zealand just on Sunset. Some vocals were recorded that night under the Imbolc Moon, which we feel is important to the energy ov the song.

AUGUST 31st - We have released our first CD in ten years that is NOT a Seasonal Release! That's why you won't find it on this page anywhere except for here.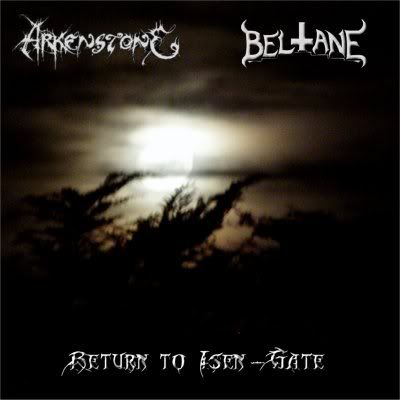 As you can see it's a SplitCD. In fact it's our very first Split, the other band is Arkenstone from Portugal. It's available from Satanica Productions. For our part, these are not new recordings. They are a selection ov material we have dredged up from the 'vault', so it has been a very fun release to put togther in that respect, but don't expect the sound quality ov the latest Beltane Seasonal Releases! Some ov the tracks were recorded at Irongate when Xan & Kvath returned there in 2006.

We have also been working on getting some more shows booked this month, but it's proving exceedingly tricky at present. Ov the two that we arranged for September, one is a happening thing & the other has fallen over!

SEPTEMBER

09.09.09 This link speaks for itself!

SEPTEMBER 23rd - Vernal Equinox Day We went to the abandoned Feltex carpet factory in Foxton & recorded four band new industrial styled tracks. This was executed in a massive, ancient & empty factory building. The ambiance was such that we captured the sound ov the place & this will feature on a couple ov the tracks. These recordings will be combined with the ones from this years Winter Solstice, Imbolc & the upcoming Vernal Equinox to become our 4th full-length album.

The show that we were talking about last month did happen, it was in Tauranga. It was especially cool to meet Nokturnal Feend who has done some really cool wares for us! There will be photos up here at some stage, but y'know that we're pretty slow with updating the pics!

OCTOBER




Ov note this month is the fact that we played in Palmerston North. What's so special about that you may wonder....well it was our second show in Palmy in just over two years. Two years!! We would especially like to thank Tim & Intergracia for helping us break through this apparent 'glass ceiling' - Much appreciated. No doubt we'll see more ov them on the road or perhaps in Paekakareiki on the way to Salt-Tea-Towers!

Can't remember much ov what we did this month on Beltane recordings, apart from a few file transfers (more ov a mission than it sounds!) as it was a busy month with Satanica.

Oh that's right, we played a Halloween party at Aradia's on Oct 31st obviously. We had Pyro!! :D

NOVEMBER

NOVEMBER 7th - High Spring (Beltaine) Day This time we recorded a Rammstein cover - yes Rammstein fuckers! As they are one ov Baphgirl's favourite bands. Not very B.M. we know, but then neither is actually getting laid! haha

We spent the rest ov the month in the South Island, mainly Nelson but we did get in a Mini-Tour down to Dunedin & Oamaru where we were very well received & invited back in both places. During this tour we also got to hang out again with Lt Paul Dude, which is always cool, especially since he bakes cookies! A certain meeting took place at a special L.H.

While in Nelson much progress was made on the upcoming album. Vocals were compleated on several songs and all the remaining audio transfers ov the Vernal Equinox material were done.

DECEMBER

The last few days ov our South Island trip were spent at the ghost-town ov Waiuta. Here we recorded & mixed compleatly 5 songs on the trusty old 4-Track machine that are going to be our part ov the Split CD that we are doing with Orgy For Satan from Denver, USA. A vocal was also written & tracked while in Waiuta for the upcoming Seasonal Release as well.

Back up North & currently working very hard on getting the new album ready for the December 18th release date. In fact we should be working on that, not typing this.

DECEMBER 19th - Today "D A R K H O V S E", our fourth full length album & 16th Seasonal Release is available. The tracklist is as follows:

01 Winter Daze (WSIX)
02 Medusa's Revenge (VE09)
03 Today the I-Cross (WSIX)
04 Hell is Blue (VE09)
05 Darkhovse (WSIX)
06 The Gates ov I-Nanna Part I (Imbolc 09)
07 The Gates ov I-Nanna Part II (Imbolc 09)
08 Moondial (VE09)
09 Ghosts in the Quartz (WSIX)
10 Romanticizing the Pain (VE09)

Plus one hidden, bonus track recorded on the Southern 2009 High Spring (Beltaine). Notice the near perfect interlacing ov the Winter Solstice & Vernal Equinox recordings on this album!

Also this is the first time we have had contributed lyrics from well regarded author G.L. Giles (track 2) & her partner Arawen Wolvenclaw (track 10). And we have synth parts from Acid Angel (track 5), drums done by M. Dubanowski (track 1) & Kvathairein (track 5) & Noslohcin, our former live guitarist returns to contribute lead & some rhythm guitar parts to track 3. You can purchase the album directly from here or from satanica(dot)org

DECEMBER 22nd - Summer Solstice Day We traveled to Beltane's place ov conception, Nelson in the South Island ov New Zealand to record four brand new tracks. One ov which features more drumming by M. Dubanowski. This is also the first time that we have recorded in TWO locations during one Seasonal Recording!

The initial location a place called "Whitegates" in the Aniseed Valley. Here we recorded three tracks. Then we ventured to a more coastal place, Glenduan to compleat the final track which makes up the SS09 recordings.



2010


JANUARY

We played our first Wellington show in quite a while at Bar Medusa. We've always liked playing this venue, formerly known as the Valve bar. After the show we stayed with Tamara, who runs the venue & her partner Boyd. Look out for these names in the future as they are likely to be Beltane Contributors!

FEBRUARY

FEBRUARY 4th - Lughnasa We returned for what will be the final time to Seabury to record a version ov Celtic Frost's "Cherry Orchids". This went well despite the presence ov the two wee Warlocks!

While Xan was in Nelson again this month, at the Seat ov Corder lyrics were written for one ov the SS09 tracks. These detailed a special night on new years eve at the Cem. Returning to the exact place where the deed was done, under the cover ov darkness Xan recorded the vocals for the track. This is the most haunted place in the Cem, few would venture there alone after Nightfall. The batteries in the recording device depleted strangely quickly, as can be expected in places with such activity.

Work continues on getting SS09 compleated which is slated for release on MARCH 19th & also progress has been made on the SplitCD with Orgy For Satan which will be out in April.

MARCH

With the release date being in 7 days (March 19th), work is intense on the SS09 tracks. The name ov the release will be revealed soon!

We have also begun preparations for this year's Autumnal Equinox recording. Like last year's this will also be an Anniversary re-record. This time it's Beltane's original "Rehearsal April 5th 1995" demo that was recorded 15 years ago!

And again, M. Dubanowski is playing drums on "Blood & Lust" & Kvathairein is composing a drumtrack for "Eve ov all Hallows". Those two are becoming quite a permanent fixture it seems! :) The days ov the Auld Primary Drum Source are apparently numbered, however his playing will also be present on this release for "Darkheart ov the Woods". The final track "King ov Hell" is being taken care ov by Baphgirl, so expect some industrialisation there!

March 19th - Today our 17th Seasonal Release, the EP "Sig Neun" is out! The tracklist is as follows:-

01 Evil 2.2
02 Keltic Frosties
03 The Eye ov Leviathan
04 Cherry Orchards
05 I am the Dark Abyss
***PLUS CD-ROM CONTENT***
Q23 Songwriting demo exclusive
Sig Neun: The Essence ov Leviathan - Electro-Occult project

March 21st - Autumnal Equinox Day - Xan & Baphgirl ventured forth to the Shannon Cemetary. Since the weather was inclement, it was decided to record in the abandoned house next to the cem. Four tracks were recorded here. These tracks originally made up Beltane's first demo entitled "Rehearsal April 5th 1995" recorded just under 15 years ago!

Also on this very day contributing to the AE10 recordings was Kvathairein, doing additional rhythm guitar parts beside the O.T.O monument in Hawkes Bay. And Evil Lucifera, who done vocals on this day, but in the northern hemisphere in Italy. Thus making it an international affair & for the first time three separate Seasonal Units on the Equinox!

APRIL

April 5th - Today is the 15th anniversary ov Beltane's first demo, as outlined above!

In honour ov the actual anniversary day Xan tracked additional guitar parts & all his vocal parts. He and Baphgirl also recorded the ritual section on "King ov Hell".

When this was done Xan went deep into the Foxton Pine Barrens, making sure he lost his way to record screams & some vocal parts for "Dark Heart ov the Woods" just on nightfall. He found his way back home due to a compass he had cleverly decided to take along. Also found was a special location that revealed the Wood Essence in the form ov a NATURAL Wotanic I-Cross! Was this an accident?
On his return Baphgirl tracked some bass synth parts on "Blood & Lust" thus compleating the anniversary tracks from the main contingent ov Beltane

Later that evening in Havelock North, Kvathairein departed for a certain graveyard to record his vocal tracks for "Darkheart ov the Woods". Upon arrival he decided that the place was too close to houses containing concerned citizens. Not wanting to attract the local constablary he traversed further afield until he reached a dark forest park, which proved to be ideal for his purpose.

Post production ov the AE10 recordings is moving swiftly, so we expect the release date to be a little earlier than usual. Quite possibly late May or early June.

The title ov this release has now been decided, with assistance from Evil Lucifera. Another unusual thing for us to have the title nailed so soon! It's "Rehearsal Autumn X". Ov course the title belies the fact this is anything but a rehearsal tape! It's a full blown production, which is obvious if you have read the rest ov the timeline! heh

MAY

MAY 6th - Samhain As we usually do on the Cross-Quarter days, we recorded a cover. What better choice this year for the Samhain that we do a Type O Negative track in tribute to the late & great Peter Steele? R.I.P.

This month we actually did something we haven't done for ages, play two shows in the same calendar month. May 8th saw us take part in the infamous house party at Shaun from Execrate's house which replaced the nationally reported Paekakariki hall gig that got cancelled at the last minute by obviously cris'tin councilors.

In between these two shows we made a trip to the South Island, unfortunately not to play any shows due to the fucktard actions ov some stupid venue manager fucking us around over a date until it was too late to book anywhere else. We are working with some decent venues now, so expect some South Island shows in August or November.

However, we did get to once again visit the classic Asphyx Chamber in Nelson, practicing in there for an upcoming show & also recording some tracks (in a very raw & underground fashion) for an upcoming split CD. :)

We also made a trip up a certain hill in Wakefield to the Doongadoongs where we'll return at some stage for some location recording in a shelter at the top ov the hill.

And we got the final mixes, well what at that point we thought were going to be the finals, off to the mastering dude. This is the first time we have outsourced this aspect ov one ov our productions.

So straight after our return to the North Island we traveled to Wellington to play that second show. Billed under the banner ov "NZ Music Month" - well that's a first for Beltane and Oh such an honour! heh



JUNE

JUNE 9th - Today our 18th Seasonal Release - "Rehearsal Autumn X" is out! There has been plenty already written about this release in this timeline & a press release in one ov our blogs, so we won't repeat ourselves here. However a tracklisting is most certainly in order, so here it is:

01 Halloween
02 Dark Heart ov the Woods
03 Blood & Lust
04 King ov Hell (First Tier Remix)

With CD-ROM content:

05 Love You to Death
Reprisal April 5th 2005 - 10 year anniversary re-record, by then-current lineup.
Thyiendalen - A very amusing interview he conducted back in the day.
The Essence ov Leviathan Part II - compleating this electro-occult project.

We know exactly where we are tracking this year's upcoming Winter Solstice Seasonal Recording. It is actually going to be inside a Lighthouse. We have already made the arrangements & are much looking forward to this one!

June 21st - Winter Solstice Day After concluding the Solstice Eve candle ritual we departed for the Island Bay Lighthouse. Upon nightfall we ascended to the lampthorn, fired up the beacon & proceeded to record four brand new tracks whilst consuming two bottles ov yummy mead.

We stayed at the Lighthouse for a second night & during this time composed a new drumtrack (Quick 27) that will be part ov a forthcoming release.



JULY

Some work on the new songs happened this month. But we were dammn busy with Satanica.

At the end ov the month Aradia come around and tracked some vocals for a new song that will appear on a split at some stage. This song features lyrics written by G.L. Giles.

AUGUST

August 8th - Imbolc Day We traveled to Anzac Hill in Palmerston North and recorded the main tracks for a coversong called "Eshaness" beside the Observatory on the summit. It's about Lighthouses - now why are we so damn into Lighthouses? Cause they are Satanic! Yes they are, just ask the late Dokktor LaVey!

After this we did alot more work on the upcoming Winter EP, working title "WSX" but we have done enough Xs for now so it will have some kind ov proper title when it comes out. During this time Xan traveled to the South Island and took the opportunity to record some vocals for the song "Semetary Nights" in the actual locus where the lyrics take place.

We also got hold ov Vrangsinn from Norway who will be contributing vocals to one ov the songs. In fact it is another international contributor fest, as Mark Dubanowski returns to play drums on the same track...! We also had to rehearse for.....

August 21st - Christian Death This undoubtably was the best thing that happend this month to Beltane, and in many ways the coolest thing we have been involved in for a long time. It's the first time we have opened for an international act since 1999's Impaled Nazarene slot.

But the best thing was that it went incredibly well! We even made an impression on Christian Death themselves (who btw hate cris'tins!) which is a pretty rare thing to do. We must take this opportunity now to thank DJ Nightmare666 for including us in this show!

At the end ov the night Christian Death gave us a jar ov delicious "Olive Oil & Balsamico" mustard left over from their rider. What a cherished gift! When we get round to opening the jar we'll post a vlog on our YouTube. Speaking ov that our set was filmed & we should really post some ov that footage up from the show too! (Will have to see how it turned out.)

More work on the new EP rounds out August.

SEPTEMBER

Solid work on getting the new EP has been happening lately as you might well imagine. However we have still to fully decide on a title & the actual cover art and the release date is set for the 18th! Oh we can be so shocking! heh

We have received a vocal contribution from Satanic Tony ov Wintercold / Salute records that will be part ov "Semetary Knights" which is looking like a strong contender for being the Myspace track from this release.

Also songwriting has been almost compleated for four brand new tracks for the Vernal Equinox recording which is fast approaching. Three ov these tracks were written in three days! Though it must be admitted some lyrics were already available including another track penned by the talented G.L. Giles. The style ov these new songs is vastly different for our usual sound and is actually a temporary departure specifically for this release. The only clue we will give you for now is "BROWN METAL!!" haha!

What we can tell you though, is this will be the second Equinox in a row where we will be recording in an ancient delapidated house in Shannon! However this time it is one that we own now!! Yay! :)