Happening this month Free Gift for everyone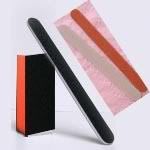 Come in the Month of April
and receive a nail filer and buffer kit free! We have different kits for enhancements and natural nails. Just mention this enewsletter on your next visit to receive your kit. We encourage you to bring it with you with every service.
Print out this email to receive promotion
We appreciate all of our clients for welcoming the new Posh Nails technicians, Tommy and Kevin. As some of you may know, I, Jennie, am pregnant and will be limiting my hours of work. My new hours will be Mondays and Tuesdays. Occasionally Wednesday by appointment, and Friday and Saturday mornings. Hoa's new hours will be from Wed. thru Sat.
We do appreciate you trying out our new technicians, but at anytime you would like to Request a certain technician, do not hesitate to ask when you sign in. David and I are thankful for your compassion in our situation.
Thank you to all of our clients who has made March a wonderful month .
We will be accepting appointments for Sundays once again.
Cash payments for Sundays will be appreciated . All updates will be notify by email.
912.267.1633 Visit our Website here.