Adoptions/Quizzes/Stuff
|Page 1| |Page 2| |Page 3|
---

Sailor Saturn
adopted ~September 3, 2000~




---
Mr. Zelgadiss was adpoted from:
---

I am Chicken Little! Find your fairy tale character at kelly.moranweb.com.
---

I took the What Mythological Creature Are you? test by !
---
---
R

You are restricted. Well done, you're now
practically adult in nature, and plus, you
get to see nudity - have fun.



"Which Movie Classification Are You?"
Test created by Jamie - take it here.
---
Why know what you can look up? And why look up what you can extract from the minds of your enemies? There are those who think and those who act. I am the latter. I am a problem solver. I have a gift for reading people. I take pride in my wit and speed, not my strength or power. My power is of the mind. The ball is under the middle dish... Pay up.

What's your superpower?
---

You are Spike Spiegel
A laid back bounty hunter with a mysteriously tragic past. You have a cool sense of humor and would do much for people you love.
Which Cowboy Bebop Character Are You?
---
---


what's your battle cry? | mewing.net | merchandise!
---
---

You give your love and friendship unconditionaly. You enjoy long, thoughful conversations rich in philosophy and spirituality. You are very loyal and intuitive.

Find out your color at Stvlive.com!
---

discover what candy you are @ stvlive.com
---

Which "Natural Wonder" are you?
---

Take the What High School Stereotype Are You? quiz, by Angel.
---
Are you Addicted to the Internet?
Hardcore Junkie (61% - 80%)
While you do get a bit of sleep every night and sometimes leave the house, you spend as much time as you can online. You usually have a browser, chat clients, server consoles, and your email on auto check open at all times. Phone? What's that? You plan your social events by contacting your friends online. Just be careful you don't get a repetitive wrist injury...
The Are you Addicted to the Internet? Quiz at Stvlive.com!
---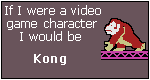 I am Kong.

Strong and passionate, I tend to be misunderstood, sometimes even feared. I don't want to fight, I don't want to cause trouble, all I ask is a little love, and a little peace. If I don't get what I want, I get angry, and throw barrels and flaming oil at whatever's stopping me. What Video Game Character Are You?
---
What Pattern Are You?
---

I'm a Water Spirit