---
---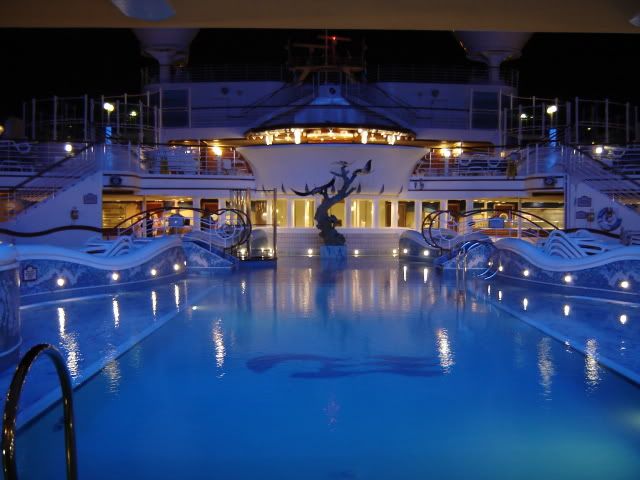 Alaska Cruise May 2010

Golden Princess * Emerald Deck * E209
~ Cruising the Inside Passage thru Tracy Arms Fjords ~
---
---
~ Ellyn's Voyage to Majestic Alaska ~
Trip Report with impressions, links and photos
from breathtaking glorious Alaska
~ a truly humbling experience ~
---
---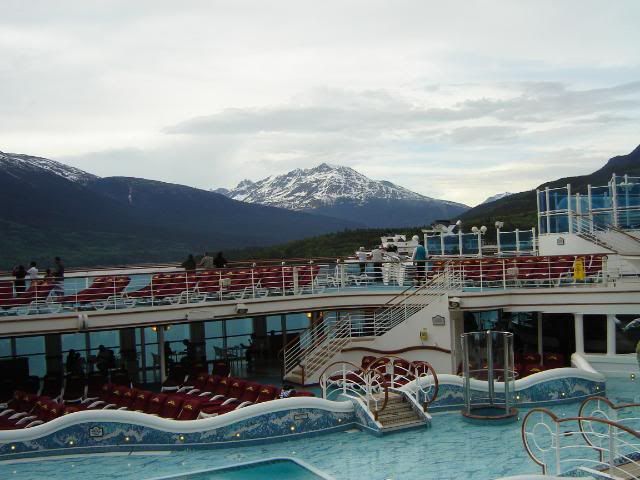 ~ May 2010 ~ Round-trip Seattle ~ eight magical days ~
---
...majestic scenery, fine dining, wine tasting, whale watching, shopping, galley tour, spa treatments, spectacular views, and exciting ports...
---
Dazzled by Princess ~ Mesmerized by Alaska! ~
My journey aboard the magnificent Golden Princess began in Saint Louis, and included an over-night stay in Seattle. I was traveling with my cousin Linda and her husband Frank and meeting friends on board. The flight was uneventful (a good thing when flying) and after an in-flight Bloody Mary or two, we arrived in Seattle and walked a short distance through the airport to find the newly opened section of the Link (light rail). Taking the Link was sheer genius.... and saved quite a bit of money over the offered charter from the cruise line. We took the Link to the University Street Station for a fare of only $2.50 and walked downhill one block to our hotel. The location was incredible and the lodging was fabulous. We stayed at the Inn at Harbor Steps and somehow booked a half-priced special for only $125.00 a night per room. This was very special indeed; and included wine, cheese, crackers, and veggie happy hour, in-room fireplaces, free internet, fresh baked cookies, a newspaper, plush robes, and a lovely fresh-made breakfast in the morning.
We explored Seattle (our port of departure) and walked all around town. We spent time at the Pikes Street Market, visiting the first Starbucks on earth (took pictures and bought coffee), and shopped at the Pike and Western Wine Shop (to buy wine to bring aboard). Pikes Street Market is awesome and we explored all the stalls and shops. I wish I'd bought some of the beautiful flowers that everyone was selling to bring aboard (only $5.00).
We checked out of the Inn and took a short cab ride to Pier 91 where I got my first glimpse of the enormous Golden Princess!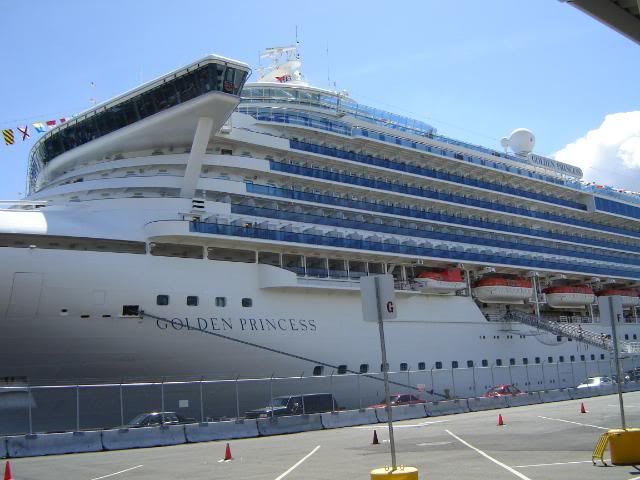 We wheeled our suitcases aboard about noon, turned them over quickly to handlers, and were boarded in just a few minutes! We had no problem bringing wine aboard. We were given a card to fill up with punches to collect for a contest (a good way to explore the ship). The Golden is beautiful, with rich toned wood, and lovely art-deco throughout its' interior.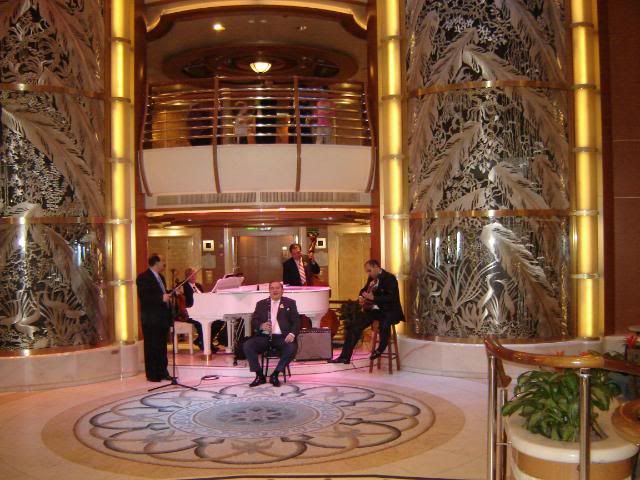 We explored the Ship, stopping at the Spa, Vines, and the International Cafe and then went off to check out our cabins. I had an obstructed cabin, which I knew from Cruise Critic would have very little obstruction. On the Emerald Deck, Cabin E209 had just a piece of metal down the center of the window which did not block the spectacular views. The cabin was lovely with plenty of room....the perks of not sharing a cabin! I quickly met my steward Allen, and my cousin met her steward Larry. We laughed all week as our real life cousins are named Larry 'n Allen. I did the life boat drill and headed up to the top of the ship for the sail away party. I knew from Cruise Critic to not take a drink handed to you unless you are aware it is not free. I ordered a Margarita and watched Seattle disappear into the skyline. I was a little disappointed as there was no music or anything during sail away. Finally Maraschal Stanton, our cruise director, kicked things off, explaining about the noise restrictions leaving Seattle prevented the music from starting until we were out of Port further. Maraschal was adorable, funny, sensitive, kind, entertaining, and visible everywhere on the ship. He was an excellent cruise director and friendly and helpful.
Dinner every night was wonderful. We chose to dine at the late seating (8:15) which was like eating at midnight Saint Louis time. Andreea and Wilson were terrific servers, friendly, efficient, and entertaining. They got to know what we liked (more than one entree and more than one dessert) and took care of us. They even arranged a galley tour for us. We ate in the Canaletto dining room and although a very long walk from my cabin, it was delicious food and worth the walk. I fell in love with the Princess Love Boat Dream, the Flour-less Chocolate Cake, the Fettuccine, Ménage à Trois Cake, and the Lobster Tails. The Wild Alaskan Salmon was so delicious I had it every night.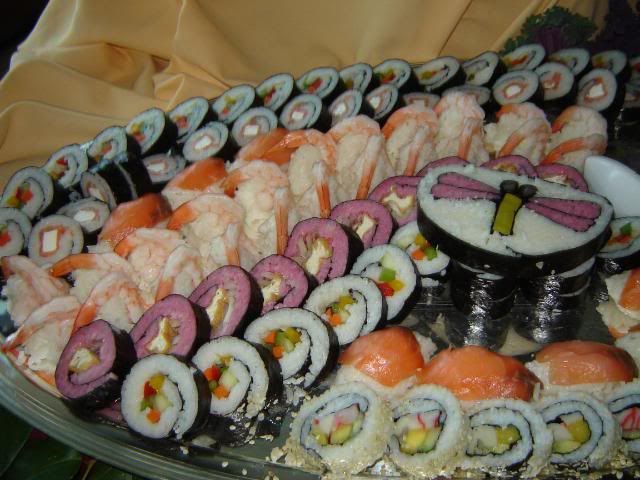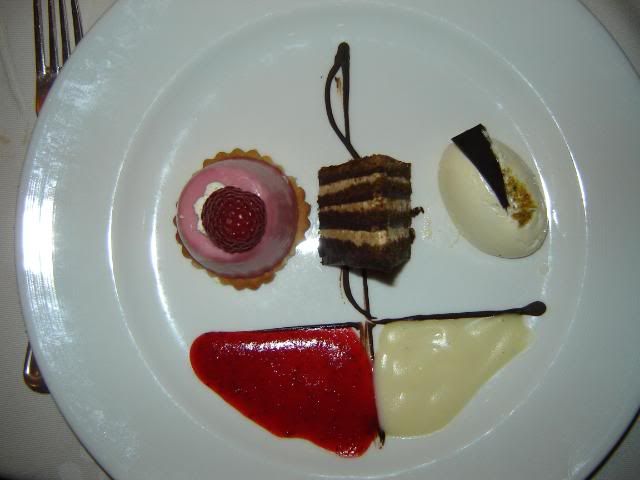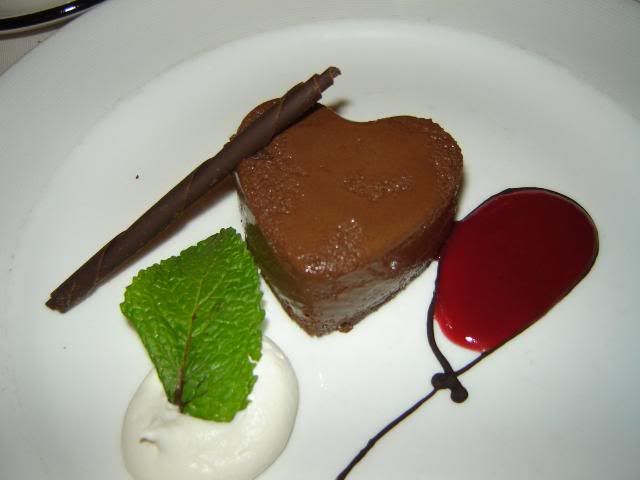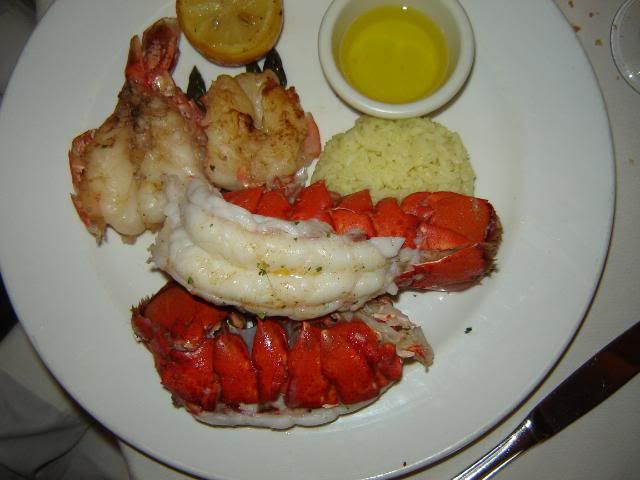 I had won a coffee card on Princess Cruise's Twitter page 5 days before the cruise, and Princess was kind enough to mail it to the Inn so I would get it on time. I really enjoyed the Cappuccino at dinner with creative painted designs with the cream in the cup. The card also got me fresh brewed coffee at the International Cafe (yes it's different than what is served normally and way better). Also the card allowed me several delicious frozen Frappuccinos. The food was wonderful, all of it! Sunrise was at 4:30 Sunday at Sea, and I was dressed and out on the Promenade Deck shortly after, wearing ear muffs, sunglasses, scarf, gloves, and heavy fleece but it wasn't cold. It was worth being up so early, to see whales and eagles and to breathe such clean air.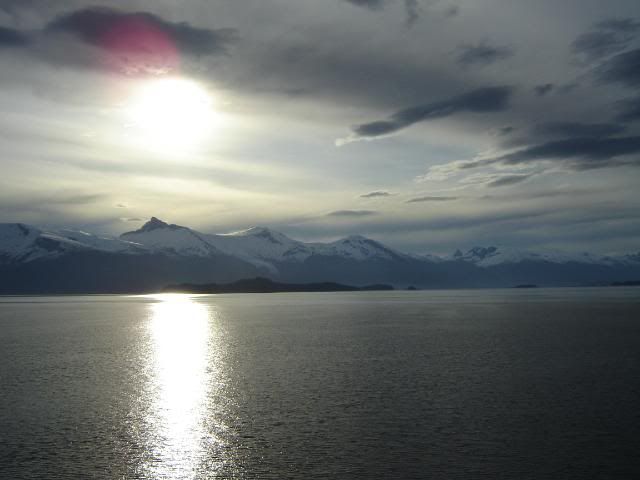 Every morning we dined in Donatello, and had the most wonderful breakfasts. I had orange juice, Lox, bagel, cream cheese, capers, and onions, pancakes, and the thickest, crispiest bacon ever. I loved eating breakfast there, with the fabulous service, and awesome views. I did try the buffet for a breakfast or two, but it was not the same as being treated like a celebrity in Donatello.
The week was relaxing and hectic all at the same time. I did several tours, went in the hot tub, watched movies under the stars, had a massage, shopped, went to some shows, played in the casino, saw the funniest comedians ever (Seymour and Alfred), and saw a magician perform as well. There was always music somewhere, and the Piazza was always a good place to check things out. I saw an entertainer balance a huge cube on his forehead, spinning it and doing a routine Cirque du Soleil style. It was amazing.
We participated in a huge wine tasting and it was wonderful. We got to keep a Princess Shot-glass from the dessert wine. We were seated at a table full of strangers, who we found out lived less than a few miles from us. That was really coincidental!
On Sunday, which was the first Formal Night, everyone was dressed up in beautiful gowns, tuxes, military uniforms, and two gentlemen wore Kilts. An Asian couple was dressed exquisitely in ceremonial outfits and was stealing the show as the most photographed couple aboard. I met the Captain, and a few officers, and enjoyed the Champagne waterfall, seeing everyone dressed up, and the delicious dinner that followed, was terrific. I played in the casino, and finally got to meet the 'world-famous' James, and gave him messages from online friends on the Sapphire. I got to play in a Slot Tournament, and actually made it to the finals. Thanks to Princess for the runner-up tee-shirt which made a nice souvenir. I played a couple sessions of "Let It Ride", and also I threw a little money into the slots. I didn't play seriously, because the ship's casino is not like 'home' and neither are the dealers. I didn't see a lot of people smiling, or winning much either.
After the casino I walked around outside stargazed and took this photo at 1:03a.m.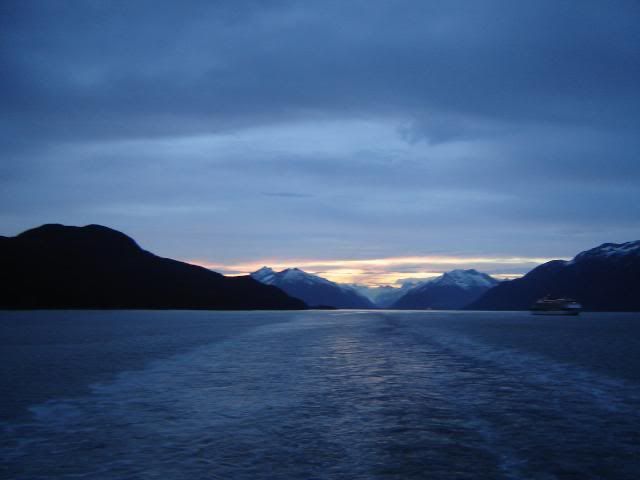 My cousin Linda and I participated in every art auction (to get the free champagne of course), but I discovered a new artist I loved (Michael Goddard) and will research him now that I am home.
I loved the deck with the pools, and watching Movies Under the Stars. I was served fresh baked cookies and milk and they covered me with a blanket as I watched a first-run movie on a cold late afternoon. I enjoyed the pizza, and burgers, and the sushi buffet outside as well.
The highlight of my trip was cruising through the majestic Tracy Arm Fjords. I awoke at 4:45 and made my way to the Promenade deck. I quickly moved up to the very top of the Golden once we entered the fjords. I was mesmerized, and awestruck and humbled by the experience.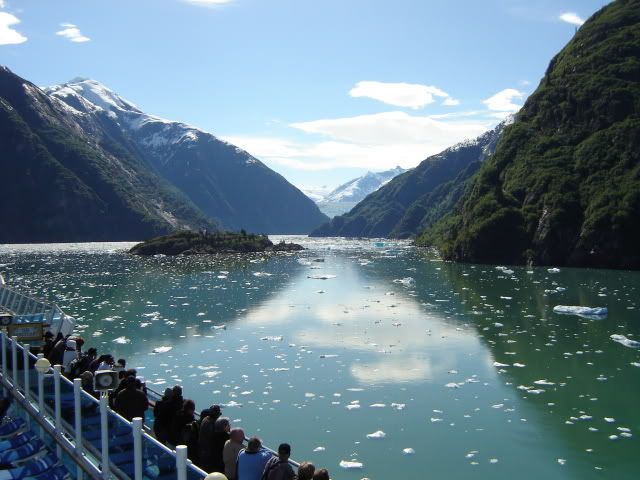 Here is a video that was created by Michael Modzelewski, the naturalist aboard our ship that week. This was filmed May 26th and the narration is amazing. Michael found words for what I was feeling, when I was merely speechless with awe.
Michael Modzelewski Video
Here is a video that I found on youtube from the dates I was in Skagway. It is a time-lapse video and each day is captured from 3:30 AM to 11:00 PM. It is light almost the full time.
Skagway Video
We passed the Coral Princess in Tracy Arm Fjords, and the passengers on both ships greeted each other loudly! We got very close to Sawyer Glacier. There was blue ice everywhere, and was the most beautiful place on earth.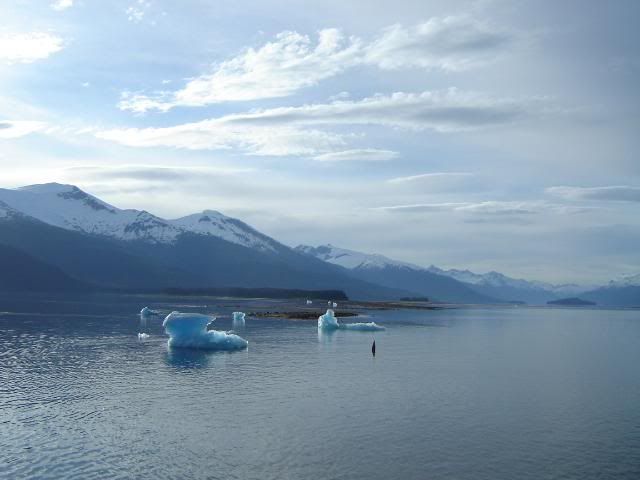 ---
---
Juneau: We booked a Whale Watching expedition (Princess sponsored) and saw many whales, and sea lions, and a bald eagle. It was an incredible tour, on a very nice boat, with great views, professional staff; and binoculars were provided as well as salmon samples, hot cocoa, and cookies.
I also took the Mendenhall Glacier Tour and because the bus there was delayed, didn't get as long as I would have liked there. It was an awesome glacier, and we got great photos there. Juneau was 71 degrees, very sunny, and a very enjoyable port.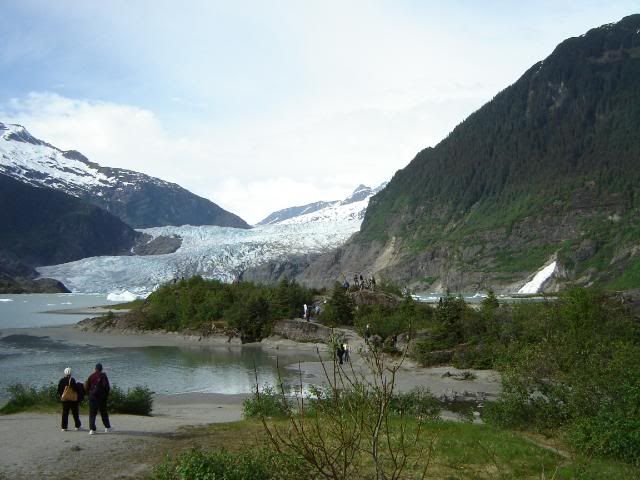 Skagway:Skagway was 66 degrees, sunny, and a very cute town to explore. We shopped a little and then took the White Pass Rail Tour (also Princess sponsored) 3000 feet up to the top of the mountain, over trestle bridges, past waterfalls, and in to British Columbia. The magnificent scenery afforded us many terrific photo opportunities.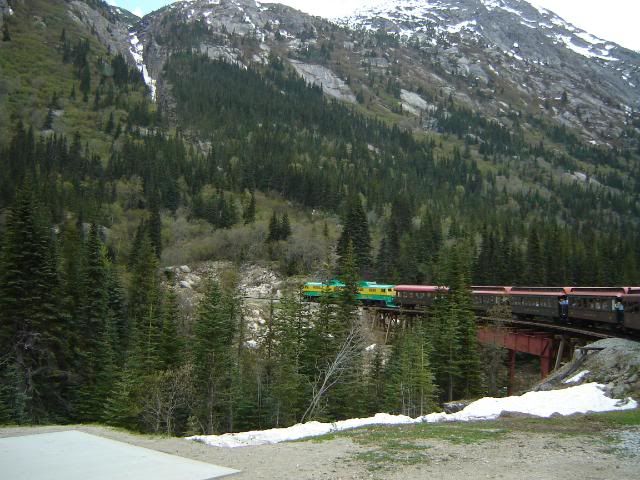 Ketchikan:This was my favorite port. The town was very charming, and looked like a picture postcard. I took many photos of town from the ship. I enjoyed the people, the shopping, and the town. I bought quite a few souvenirs, although I hadn't planned to. It was such a cute town. I wish we had longer there, but had to be back at noon. I did participate in the Ketchikan day of pampering offered by the spa when I got back to the ship. I enjoyed a facial, massage, hot tub, sauna, and more.
Victoria: I was not as enchanted with our visit to Victoria, as we had to skip our late dinner to visit Canada. We decided to walk from the ship into town to save money on the shuttle, but it turned out to be a big walk there through winding neighborhoods and up and down hills. Just to get to the shopping area. It was all lit up and very beautiful, but there wasn't enough time in port. By the time we walked to town it was time to get back. That is our ship all lit up!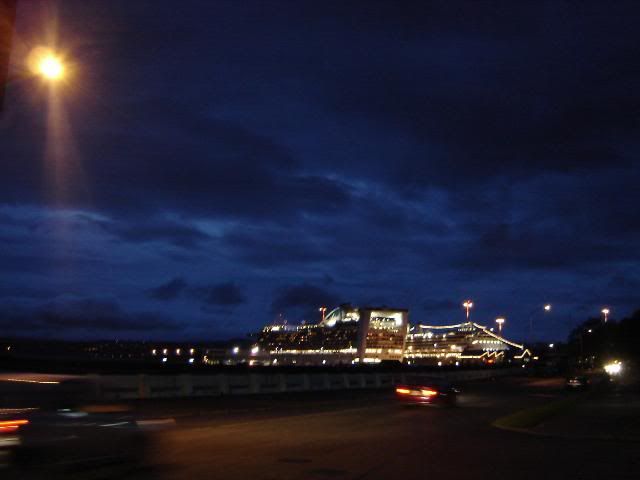 ---
Here is a link to all of my photographs. You will have to sign up at Walgreens' website but I think the pictures are worth seeing. I had a glorious time aboard the Golden Princess and want to experience Alaska on the Voyage of the Glaciers itinerary someday!
Walgreens Photos
---
---
---
---
It will make my day!
---
---
You are visitor number

free counter provided by Andale
or maybe you are visitor number
copyright©may 2010 ~ last updated June 30th, 2014
~ ellyn hloben ~ webmaster ~