Links
Components- Modems, Sound Cards, Graphics Card, Memory,CPU, Motherboards

Computer Hardware- CD-ROM Drives, CDRW, Disk Drives,

Welcome to Computers R Us! Please choose from the Links for Good Prices on Components and PC'S!!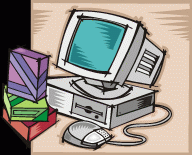 Our Terms In order to give the best prices to our customers we aim to purchase our products in bulk buying power. So the more we buy the better the prices we can offer you!!
Yes and there is a 14 day money back gurantee if you are not happy with any item or you just change your mind and want your money back, all you have to do is return the item within 14 days as long as it is in it's orignal packaging and you have the receipt, then we cant refuse!!!
Now which company offers that?? All our computer systems and parts come with a full 1 years RTB Warranty and can be returned through the Courier service at our expense or bring it back to our Manchester branch and we wil repair it or give you an exchange within 2 hours.