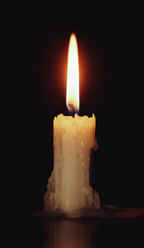 Edgar Allen Poe
Poet, father of macabre fiction, and author of such
gothic works as "The Raven," "Cask of Amantillado," "The Pit and the Pendulum," and "Tell-Tale Heart," Edgar Allen Poe's troubled life and his debilitating addiction to opium are examined in the biographical study Famous Authors: Edgar Allen Poe, a series that examines the men and women behind the words that brought them literary kudos.
The poet and short story writer from an impoverished background ultimately became the toast of American literature. He excelled with horrific narratives such as "The Tell-Tale Heart," which were often narrated by untrustworthy characters in the stories.
With "The Murders in the Rue Morgue," he even created
a new style of fiction: the detective story.
If Poe in his professional life exhibited a willingness to depict the darker side of humanity, his private life, too, was troubled. He invited criticism when he married his 13-year-old cousin, and he suffered from alcoholism.
One of the all-time great authors though he never lived to see fame like H. G. Wells and Jules Verne did during their lifetimes with their tales of classic
science fiction,
fantasy, and
horror.
* Tv and movies have been made based on Poe's works. Even an episode of The Simpsons (the annual Halloween episode) had James Earl Jones reading Poe's "The Raven." For complete biographical video list, click on the following link: Poe Video List. Or read
Edgar Allen Poe's many works yourself

Click here if you want to hear a tell-tale heart right now

Here's a list of video available based on his works:


John Astin as Edgar Allen Poe ~
And of course Hollywood continues to look for books they can turn into movies.
Here's a current list of books that have been made into recent movies.
Adaptations of Poe stories have turned up on tv in The Twilight Zone, Night Gallery, Boris Karloff's Thriller, Lights Out, Tales of Tomorrow, Monsters/Tales From The Darkside, Tales From The Crypt, Good vs Evil, even the Avengers and Wild Wild West episodes have borrowed from Poe's vivid stories.
Email: tvg@scifans.com